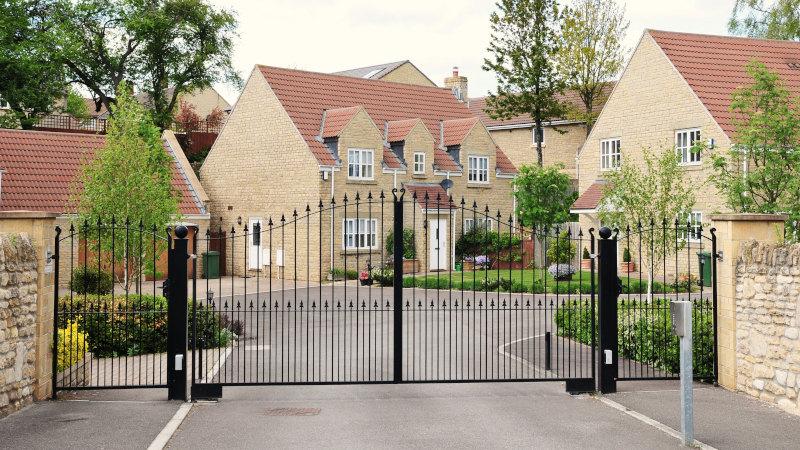 10-29-2020
One of the first lines of security for your Denver home is your yard. Front yard, back yard, side yards they all can be secured. Here is a brief rundown of the ways you can secure your yard(s).
Fences
Fencing is your first line of defense. Even a split-rail or low chain-link fence, which can easily be climbed over provides a psychological barrier that can keep the neighborhood kids out of your yard. We've seen some pretty serious fences made of living trees, planted so close together that you can't see what's on the other side. Bushes and shrubs can also provide a thick and prickly barrier that blocks views as well as traffic sounds. Even the most determined thieves will want to avoid scrambling through a thicket of rose bushes. These aren't going to deter many serious burglars, though. For that, you want to start with a fence they can't see through. Out of sight is out of mind, as the saying goes. That's the simplest first step to securing your yard. If you already have a tall (6 ft or higher) chain-link fence you can get those plastic strips that are inserted into the fence to prevent people from seeing through. The best fence is a privacy fence made of wood, stone, or concrete. It should be 8 ft tall, at least. You should top the fence with spikes, barbed wire, or razor wire to prevent anyone from climbing over it, even with a ladder. Additionally, you need to lock the gates.
Gates/locks
There are many ways to lock/secure gates. From a simple latch to fancy electronic locks and automatic security gates, there are a lot of options. On the simple end, a latch that can be secured with a padlock is a bare minimum. Yes, it might be a hassle when you have to go through it several times a day, but it could be well worth the effort if you live in a high-crime area. Use a big sturdy lock that can't be easily broken or cut off.

For a highly secure gate, you'll want something with an electronic gate, cameras, keypads. Floodlights, alarms, and a way to communicate with whoever is out there wanting to come in. You see these in movies at the gates of a big Hollywood mansion. A person approaches the gate in their car, pushes a button, and waits for you to decide if they are okay or not, if they are, you electronically open the gate to let them in. This is probably more than you need or want, though. So pick and choose what makes the most sense for your security and finances.
Lights
Lighting is important when securing your yard. Many burglars wait until dark, so they won't be seen approaching your home. If the place is lit up like a Las Vegas casino, there won't be any hiding in the shadows. You should keep your whole yard lit up as much as possible to deter break-ins. One of the most economical ways of handling this is with motion detectors.
Motion Detectors
Motion detectors are simple sensors that trigger a switch when motion is detected. Most of the best ones use IR light to keep watch over an area. When a large warm object moves significantly in front of the detector switch is turned on that activates a floodlight or alarm or whatever is appropriate for your security. Maybe it just turns on a night-vision video camera and send s the feed to your phone, so you can see what's going on, or maybe it alerts a security monitoring company, so why can check it out. Usually, floodlights are enough to scare off any burglars. Loud alarms will also work, but they may also annoy your neighbors. Avoid that if you get a lot of false alarms triggered by large dogs, deer, or other critters. Floodlights will generally scare off animals as well. If you live in a remote area and are concerned with bears, mountain lions, or other nocturnal predators, this might be a great way to scare them off.
Yard Signs
You've seen those yard signs that say something like "This property is secured by ADT." Those work really well at scaring off bad guys before they even consider breaking into your home. It's just too much trouble and they don't want to get caught. You can buy yard signs with fake security companies on them at your local hardware store. Unfortunately, thieves also go to the hardware store and they may be paying attention. Serious bad guys will watch to see if you are turning alarms on or off. They're already watching to see if are home or not. A quick google search will tell anyone that your fake security company is indeed fake. It's much better to use real legit yard signs that come with a real security system.
Cameras
Security cameras are commonly deployed within a home, but you can also use them outside. Here's a couple of different options to consider.
Doorbell Cameras
Doorbell cams are fairly new and growing in popularity. It's fairly easy to buy and install one of these yourself. They connect to your WiFi and allow you to see who is at your front door at any time via your cell phone. They also pick up things that happen within the view of the camera, commonly part of the front yard and/or street outside your door. Many package thieves have been caught on doorbell cams. This is good to have but probably won't cover your whole yard.
Outdoor Security Cameras
To truly cover your whole yard or yards surrounding your home, you'll s]need more than one outdoor security camera. These can be placed on the house itself, like the doorbell camera, or mounted onto tall poles at the corners of your property. It all depends on the layout of your house and the surrounding yards you may want to cover. Two or three cameras may cover your whole property or you may need a dozen. In any event, you'll want to be able to view these cameras and take action when necessary. Systems can run anywhere from a hundred bucks to thousands of dollars.
Get Advice From Professionals
When you are ready to secure your home, please visit Affordable Home Security and pick out a suitable security system for your home.
Start the new year right and protect your home and family with the best home security packages and equipment. We have no contracts, are easy to install and our equipment is backed by a 3-year warranty. Save 20% + Free Indoor Camera – Make 2020 safer, smarter and simpler by ordering a smart home security system plus get a free indoor camera for a limited time.
Get a Quote