Landscaping to Improve Home Security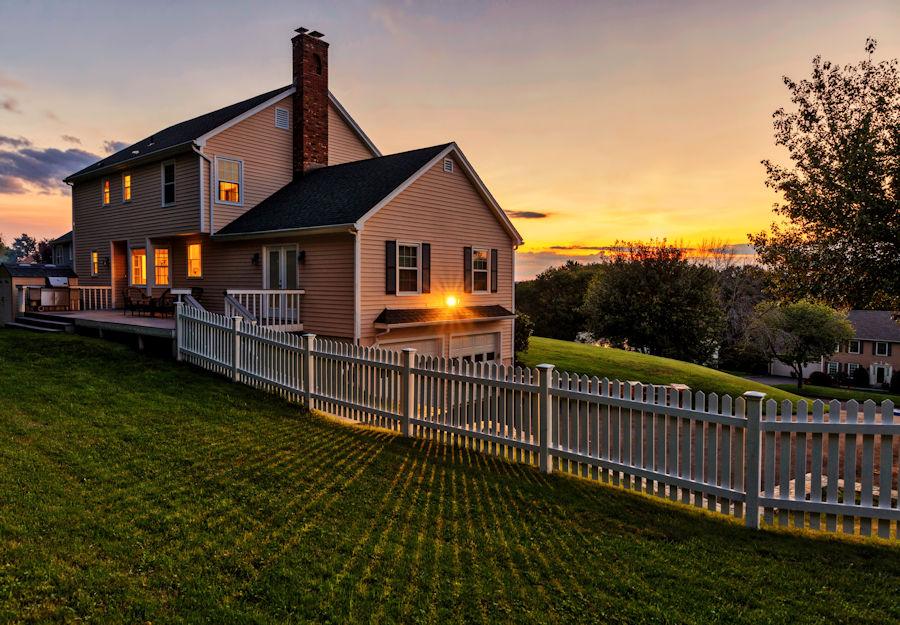 12-04-2020
According to the FBI, in 2018 there were an estimated 1,230,149 burglaries in the United States. They define burglary as "forcible entry, unlawful entry where no force is used, and attempted forcible entry." The landscaping around your home can help prevent burglaries or it can have the opposite effect of encouraging them. Nobody wants to get burglarized, so use these landscaping tips to help discourage burglars.
General Landscaping
You want to make sure you don't have any hills, mounds, structures, fences, or walls that give burglars cover when they are trying to break into your home. If you do have obstructions that prevent easy viewing from passersby, then you will want to make sure you have cameras placed strategically around your property. If there are black spots that can be seen easily, such as an exterior stairwell leading to a doorway to the basement, you will want to cover them with a bright spotlight triggered by a motion sensor. When a burglar triggers a klieg light they will usually run away as fast as they can.
Plants That Can Help Prevent Burglary
That's right, it's vegetation to the rescue! Plants including flowers, bushes, shrubs, and trees can all contribute to or detract from your landscaping, curb appeal, resale value, and home security. Strategically placing all your greenery can improve all of the above.
Open Lines of Sight
First, you want to make sure you aren't giving the bad guys any cover. Never place any large bushes, shrubs, or trees in a place where a thief could hide between the plant and the house, without being visible from the street or at least from your exterior video surveillance cameras.
Anyone dumb enough to try to break into your home should have to do it in full view of anyone who walks by. If you must place something where it blocks the view, make sure you light it up like a supernova and trigger it to turn on with a motion sensor.
Prickly/Thorny Bushes
One of the best deterrents is plants that have thorns or prickles on them. Place these below windows and balconies that are low enough for burglars to climb in and other locations where you think crooks might try to gain entry. Beautiful rose bushes are perfect! Not only will they look nice and maybe even add value to the property, but no burglar in his right mind would want to deal with them when trying to break into your home.
Yucca, Holly, and Poncirus trifoliata are also good options, or cactus if you live in a desert. Years ago when this author owned a home where children would commonly curt across the yard to get to the nearby school, I planted (transplanted from an overgrown field, actually) several Yucca right at the edge of my property over the summer holiday. When school was back in session those kids started taking the long way around. Nobody wants to go near yucca plants. It was an excellent deterrent
Trees
Don't plant a tree that could be climbed up in order to access an upper floor window or balcony. Trees are wonderful things and can live a very long life if treated well. But the wrong kind of tree in the wrong spot can be nothing but trouble. I've already mentioned climbing and blocking lines of sight. Sometimes you can build a fence with the right kind of trees, placed appropriately. When I was a teenager my mother's home had a neighbor who was always problematical for a variety of reasons. In order to shield himself from the rest of the neighborhood, he planted a double row of tall thin trees, planted close together like this (each x is a tree)
x x x x x x x x x
x x x x x x x x x x
This made for a kind of wonderful living green fence that just grew taller and taller over the years. Everyone loved it because it blocked us from having to see his horrible overgrown patch of dirt and he didn't have to look at us either. Needless to say, the neighborhood kids never wanted to attempt to cross this barrier, so he was spared having to deal with them, too.
Lights and Cameras
As we've mentioned above, bright lights and obvious security cameras can go a long way to helping prevent burglaries. Nobody likes an overly bright light suddenly flashing in their eyes. Place thesis with tactical precision around the perimeter of your property and you will probably never have to worry about burglars again.
Use Affordable Home Security
When looking for a home security company in Colorado Springs, Affordable Home Security can help you get started with security cameras and motion detectors and you can pick the package that best fits your budget. You can get a free, no-obligation, quote and be that much closer to feeling safe and secure from burglary and home invasion.
Start the new year right and protect your home and family with the best home security packages and equipment. We have no contracts, are easy to install and our equipment is backed by a 3-year warranty. Save 20% + Free Indoor Camera – Make 2020 safer, smarter and simpler by ordering a smart home security system plus get a free indoor camera for a limited time.
Get a Quote