Don't Let Your Mail Pile Up On Vacation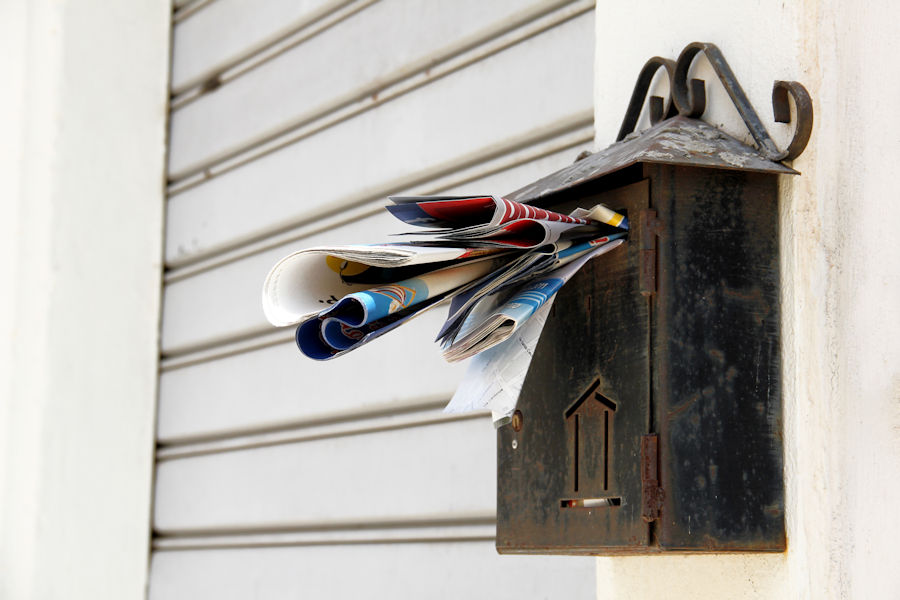 12-31-2020
Snail mail? Who cares? We get most of our mail electronically these days. It's kind of quaint to think some people still get a lot of snail mail. But older people do, and many people in older homes continue to get junk mail almost every day. Don't forget about those advertisements from the local grocery stores and the neighborhood-oriented discount coupons and ads that show up every week, no matter what you do. Even if you get all your correspondence via electronic means, you will still need to check that mailbox every day and throw it all in the trash or better, yet the recycle bin. This is how advertisers reached out to people back in the olden days, before email spam. There's still some out there that continue to send this junk mail and they never seem to stop. Just think back to the most recent election. How many over-sized postcards did you get, even if you were already dead set against the candidate on the postcard? Worse you probably got them even after you already voted. What a waste!
Keep That Mailbox Empty!
There's a really good reason to keep that mailbox empty. Thieves look at full mailboxes as a sign that says "Nobody Home!" Obviously, if the mailbox is full to overflowing nobody's been home for several days, at least, and if that's the case, then maybe they aren't coming home for several days more. It's an open invitation for burglars to take their time and break in through a back door or secluded window. They can then take their time ransacking your place. They can decide if things are worth stealing or not, they can hunt around for hidden treasures such as a safe or a lockbox. Maybe they'll just make themselves at home and trash your place over the course of a few days.
What Can You Do About It?
There are several things you can do. Here's a rundown of the best of them.
Get a Friend to Help
If you have a trusted neighbor, ask them to collect your mail every day or 2.They can hold onto it until you get back. This is the easiest and cheapest way to handle your mailbox while you're gone. In an emergency, you could even ask the friend to open some of the mail and tell you any details you need in order to pay a bill or handle other unexpected issues. You can help them in the same way when they go on vacation, which makes for an elegant solution to this messy problem.
Have a Friend House Sit
Having a friend stay at your place will not only help with the mail but will provide a very real person who can also water the plants and feed your pets. This may be the gold standard of how to deal with the situation. You just have to be willing to pay that person to house sit.
Have Your Mail Delivery Paused
You can visit your local Post Office and ask them to hold your mail while you are on vacation. This service is also available online via the USPS website. You can have them hold it for up to 30 days. That's a great way to handle your mail while you're on vacation. But what about your house? If you don't have someone house-sitting then you are still vulnerable to burglars.
Use Affordable Home Security
Affordable Home Security in your city can set you up with one or more video cameras that can watch your whole home or just your front door. Either way, you will be able to go online and find out if anything bad is happening while you are away. You can watch the live video feed directly from an app on your phone. Additionally, you can get a monitored home security service that will keep an eye on your home even if you are backpacking through remote jungles where there's no WiFi
Start the new year right and protect your home and family with the best home security packages and equipment. We have no contracts, are easy to install and our equipment is backed by a 3-year warranty. Save 20% + Free Indoor Camera – Make 2020 safer, smarter and simpler by ordering a smart home security system plus get a free indoor camera for a limited time.
Get a Quote